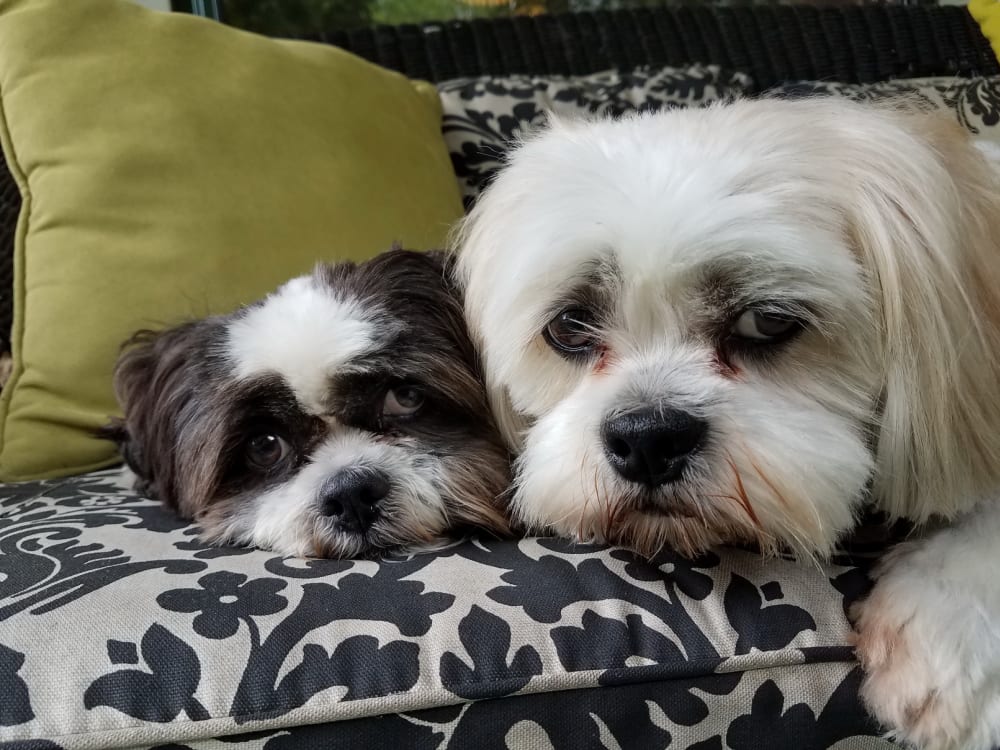 Yipee! I am so excited to write my first dog blog and share my adventures as an inn dog.
My name is Oreo and I am a handsome, 1′ tall, 15 pound Shih Tzu with black and white fur. I grew up in Raleigh, North Carolina and now call Asheville my home. My hobbies are playing with squeaky toys, hiking, identifying wildlife and hanging out with Mom and Dad at many of the fun, dog-friendly places around Asheville. I also love long walks on the beach and spending quality time with friends (new and old) out on our inviting wraparound porch. My brother is the extrovert and even though I can still be a little shy, I do enjoy getting my ears scratched and getting a biscuit treat. Hint hint 🙂
Oh, what a day!
Today was a great day at our beautiful pink lady known as The Lion and the Rose. My brother, Harley and I are absolutely loving our yard and front porch. The weather has been warm, everything is so green and the flowers are blooming. We spent some time playing outside while Mom and Dad made some enhancements to the garden. I'm happy to help dig in the garden, smell the flowers and look for any critters. Of course, my curiosity always gets the best of me and I like to give them a good sniff. Rut-roh…..that curiosity has gotten me into trouble. I've also been embarrassed a few times so I best get back to telling you about my day of gardening.
My family is passionate about nature and wildlife so we decided to introduce some new plants to attract birds and butterflies. Mom has always wanted a NWF Certified Wildlife Garden Habitat so we are all working hard to make that happen. We were all hoping to see the hummingbirds come to the feeder once we took a break on the porch but unfortunately they didn't show up today. Harley and I worked so hard that we pooped out on the outdoor sofa and took a little nap.
Garden day review
I might be biased since Mom and Dad did the work but the garden is looking really good. I think that our guests will enjoy the colorful plants and sweet smelling flowers. Oh, and how could I forget how much fun it will be to watch the birds and butterflies that visit our garden. We hope that y'all will be as excited about our garden as we are. I hope to see you enjoying our peaceful yard and the fresh, mountain air.
P.S. Don't forget to share some photos of your stay with us on our social media pages. We woof to repost your memories!