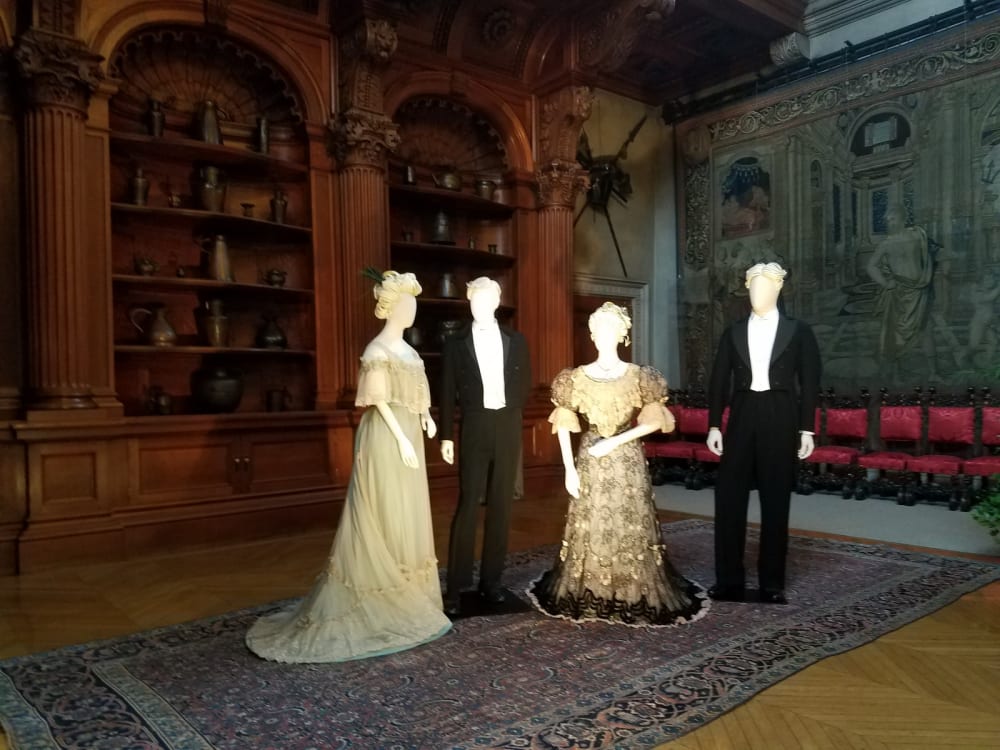 Let me start by saying that we were unsure if we would enjoy Biltmore's newest exhibit, A Vanderbilt House Party, but we were pleasantly surprised. The audio was immersive and entertaining and the replications of the clothing were exquisitely done with much detail. The event had a Downtown Abbey feel and was a new way to experience Biltmore. It felt like we were going back in time and seeing Biltmore through the eyes of guests back in the Gilded Age.
As we strolled through the house, it was fun to try to picture myself in some of the clothes they wore back then. The fashion styles of that time period are unique and distinctive. What girl doesn't love a huge wardrobe of clothing but to change outfits 7 or 8 times a day just seems insane to me. Just give me a pair of jeans and a t-shirt for the day and I'm a happy camper. Though I did absolutely love the black velvet gown that Edith Stuyvesant Dresser wore to celebrate her engagement to George Vanderbilt. That dress was one that I could see myself wearing to a special occasion event or cocktail party.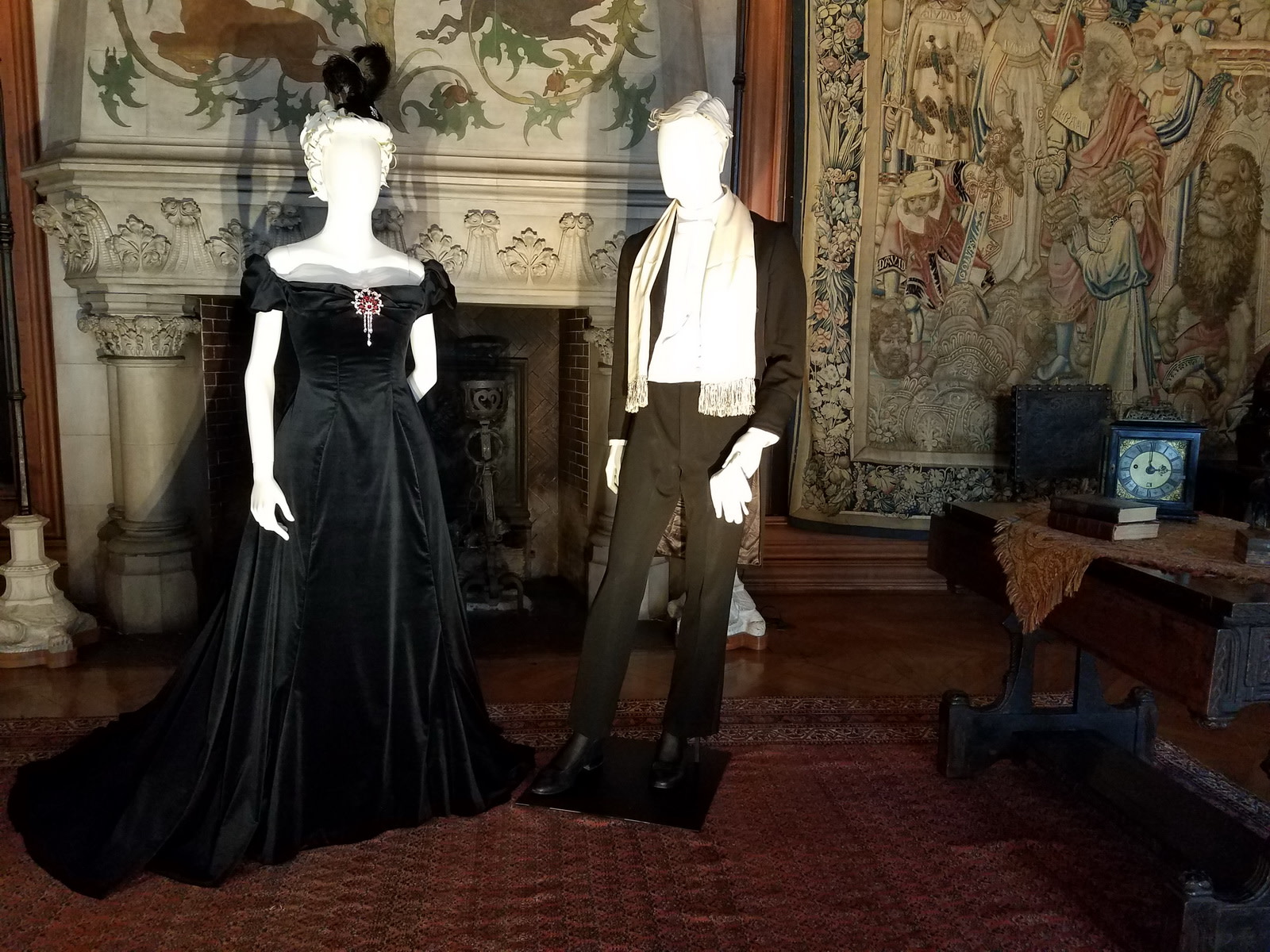 Biltmore brought in award winning designer, John Bright and his team at Cosprop London for their expertise of costume design in this era. The recreation of the clothing, accessories and hairstyles took the curators over 2 years to complete. They consulted over 100 archived photos to ensure authenticity and accuracy of the styles, colors and fabrics. John Bright is renowned for his costume designs in A Room With A View, Howard's End, Sense and Sensibility, Gosford Park, and Downtown Abbey.
One of my favorite rooms to see every time we visit Biltmore is the banquet room. For this exhibit, the table was elegantly decorated with bouquets of roses, colorful fruit and candles. The room gives you a feeling of sophistication and royalty. That could explain why I suddenly felt the need to change into something more appropriate and feminine like the butterfly gown worn by George Vanderbilt's sister, Florence Vanderbilt Twombly. With the help of the audio tour painting visuals in my mind, I start picturing this room filled with happiness and the laughter of guests. A warm and fuzzy feeling strikes me from deep within. It makes me feel blessed that I live a similar lifestyle on a much, much, much smaller scale. Hearing laughter and sharing stories to connect with each other at our breakfast table puts a smile on my face every day. As is welcoming guests as strangers but having them leave as friends. I completely understand how the Vanderbilts enjoyed entertaining and sharing their beautiful home with so many visitors.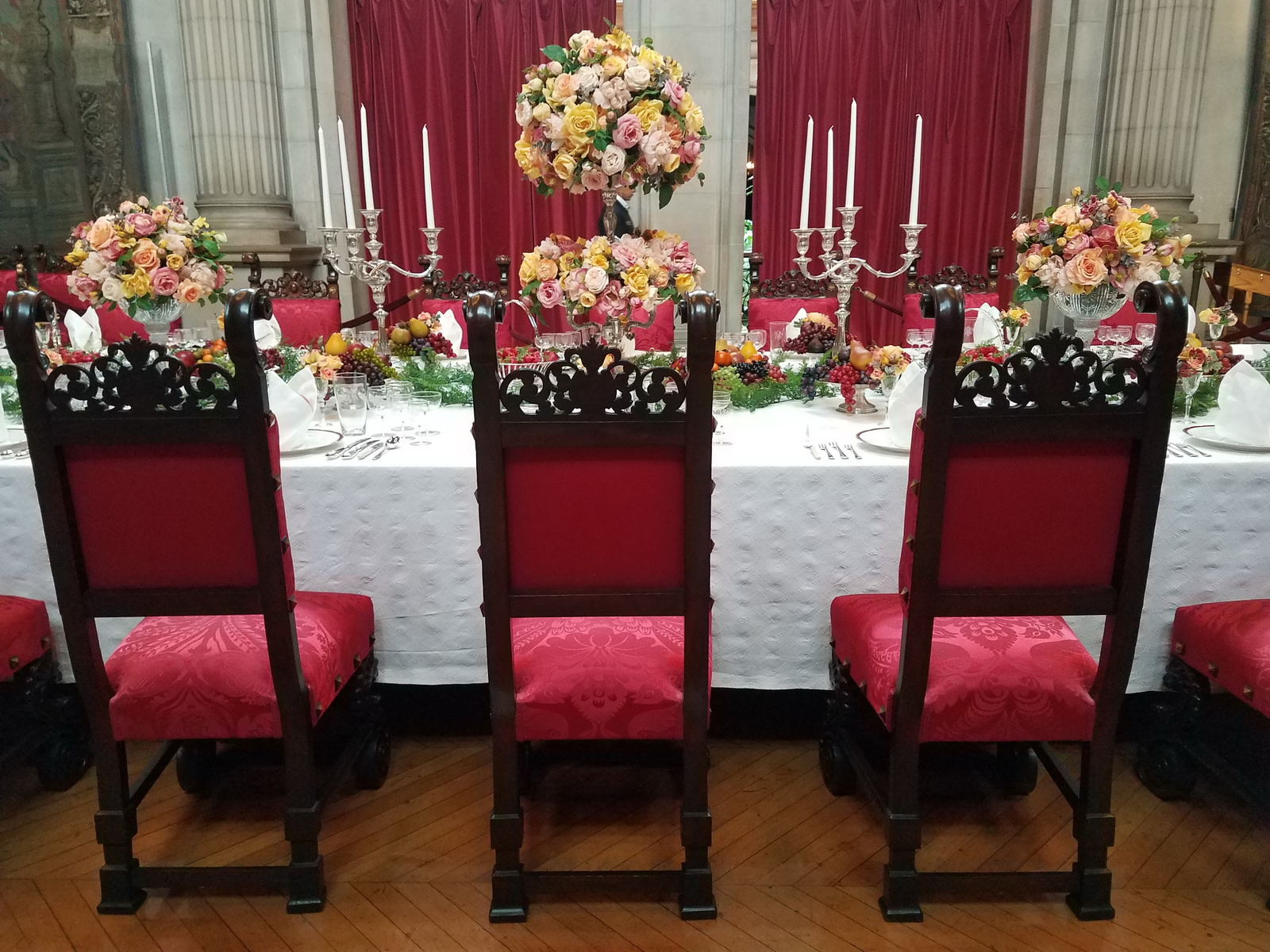 This exhibit runs from February 8 – May 27, 2019. We suggest visiting in March so you can avoid the big crowds and get a lower ticket price through March 20. At The Lion and the Rose, we offer 2 day Biltmore tickets so you can get a 2nd day free to visit anything you have missed on your first day or anything you want to revisit. Please note that you do need Biltmore tickets in order to visit any of their onsite restaurants or winery. We would love to hear your thoughts and feedback on the Vandebilt House Party exhibition when you stay with us for your Asheville getaway.