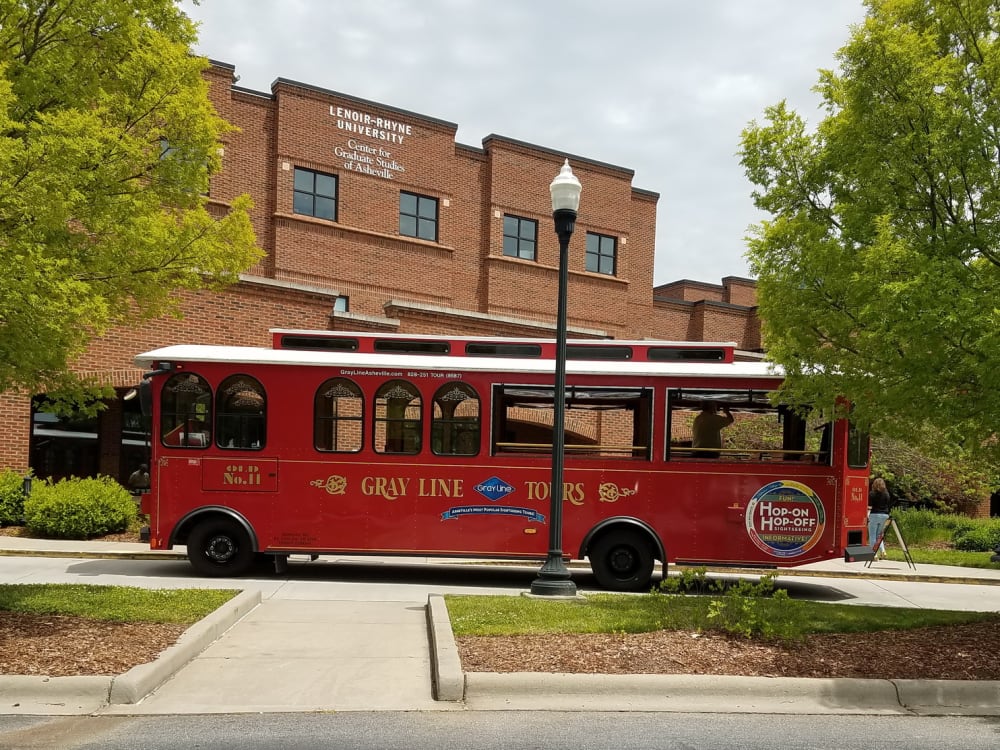 Asheville is a vibrant city with so much to offer including a rich history. In the short time we have called Asheville home, we have learned a lot about the history of the area from some of the wonderful tour guides we've met.
Here are our favorite ways to get a historic perspective and hear interesting stories about Asheville's past:
The historic trolley is a great way to learn more about Asheville. You can choose to stay on the trolley for about an hour and a half for just a history lesson. Or you can take the hop on/hop off option to explore many of the most popular attractions. You still get a little dose of history each time you get back on the trolley. We have the pleasure of seeing the trolley stop past The Lion and the Rose every half hour. We are very honored that they give a little background about our beautiful B&B. What we like best: the hop on/hop off is an easy way to see Asheville's most popular attractions in a day
Tukit is one of Asheville's newest tours but it's another great way to learn about Asheville in a couple hours. The city tour offers interesting history and stories with a finale of indulgent chocolate treats at The Chocolate Fetish. The electric tuk is not only a distinctive and eye catching way to learn about Asheville, it conveniently picks you up right at our B&B. What we like best: The tuk takes up to 6 people so it's a more personalized experience and the tour ends with chocolate!
Want a bird's eye view of Asheville? We recommend Asheville Rooftop Bar Tours for a unique perspective. You visit three rooftop bars and have a choice of drinks to enjoy while taking in the beautiful views of the city and mountains. Your friendly and knowledgeable guide, Kaye, will also show you old city photos while sharing history of your surroundings. What we like best: It's a great way to meet other fun folks and watch a beautiful sunset.
A walking and eating tour of downtown. You visit anywhere from five to seven restaurants with different food and drink pairings. The walk tends to be about a mile or less so easy for most people to handle. Although there is not as much history in this tour, we still felt it was a fun way to learn about town while indulging in delicious food stops. It also gives you a chance to walk off some of the sweeter treats you discover on these tours. What we like best: Not having to decide which one restaurant to visit for lunch when you can experience several great restaurants in an afternoon.
Want a little bit of history with some comedy thrown in? Then Lazoom's City Comedy Tour is the right fit for you. The iconic purple bus is one of the most popular tours in Asheville with both visitors and locals. What we like best: The combination of learning some history while having some good laughs.
Follow the Urban Trail or Architecture Trail. Both are casual do-it-yourself strolls around town. You will find sculptural trail stations that give background and a look into historical moments and achievements of renowned individuals. Soak in Asheville's small town charm. Admire its collection of Art Deco style buildings that is second only to Miami's Art Deco District. What we like best: The do-it-yourself trails allow you to spend as little or as much time walking around town as you feel like.