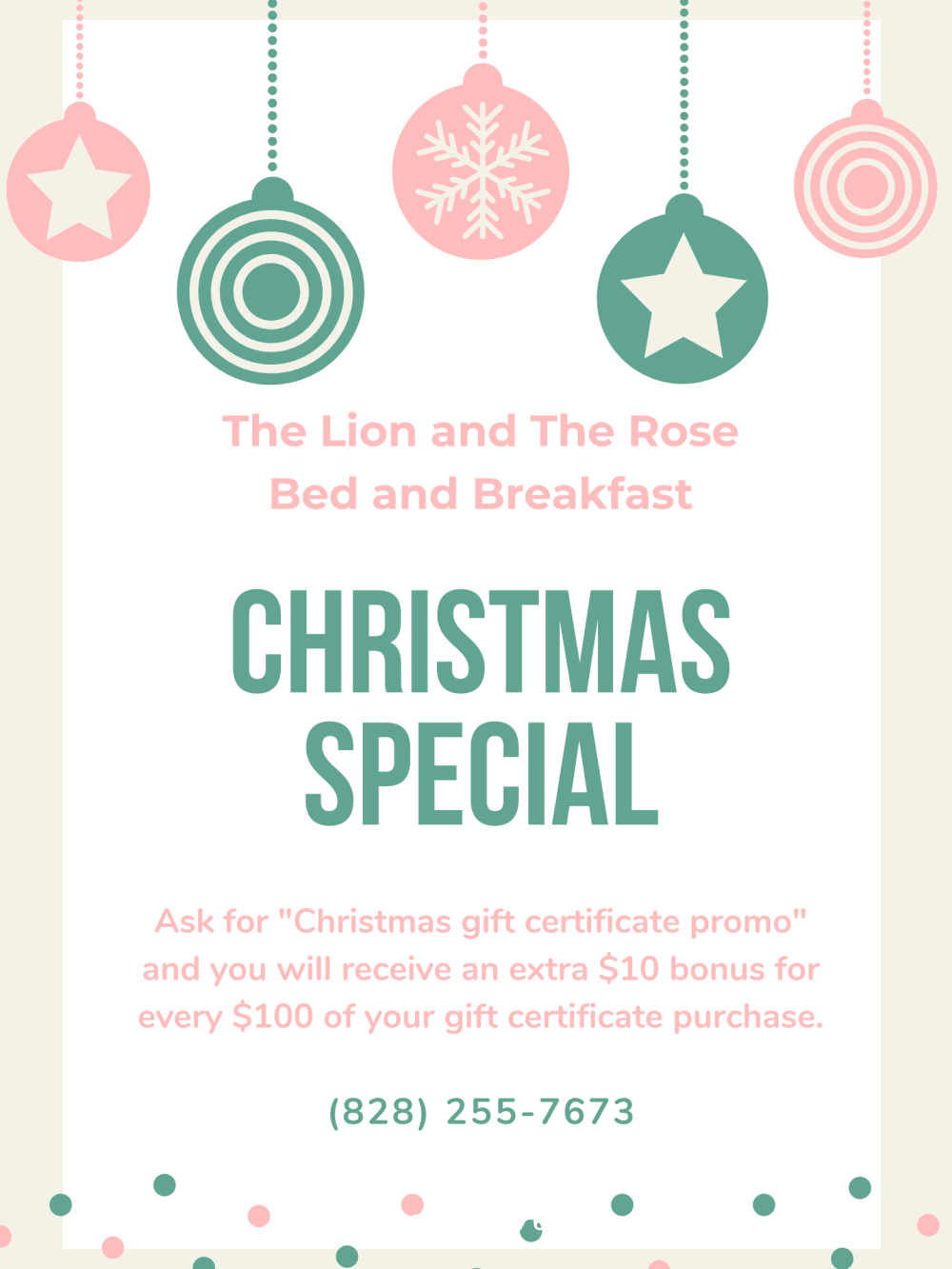 The holidays are around the corner and will be here before you know it. For a lot of us, the search has begun for those unique and special gifts for our friends and family.
Now more than ever we all need a relaxing and comfortable getaway. Take the time to unwind, de-stress and reconnect with that special someone. Consider a gift that offers memories of a lifetime at our romantic Bed and Breakfast in the beautiful mountains of Asheville, North Carolina.
"Travel is the only thing you buy that makes you richer"
The Lion and the Rose Bed and Breakfast is a charming five room inn located less than a mile from downtown Asheville, three miles from the Biltmore Estate and a short drive to the Blue Ridge Parkway. Our inn is the perfect year-round place for couples. Winter entices you to relax and enjoy a peaceful and romantic getaway. Spring, Summer and Fall may to call your adventurous side to get out and explore the mountains.
As you step inside our stunning pink lady, you will be welcomed with a complimentary beer and warm hospitality. Doze off at the end of the day in a quiet, comfortable room with luxurious bedding and the modern amenities of home. The next morning, wake up to the smell of coffee. You will find a special delivery left outside your door, a tray with a carafe of fresh brewed coffee just for the two of you. Indulge in a two-course breakfast before deciding your activities for the day. We are happy to help provide you with recommendations for exploring Asheville and Blue Ridge mountains. Keep cozy and snuggle up in front of one of our fireplaces. Or pamper yourselves with an in-room couples massage. The options are endless.
Surprise your loved ones with a gift certificate from our Asheville Bed and Breakfast. Give them a Christmas gift they will not soon forget. Steve and I (Karen) look forward to giving you a memorable experience and unforgettable getaway. Purchase a gift certificate for The Lion and the Rose and book your trip whenever the mountains are calling to you 🙂
Christmas Bonus Promotion: Call us directly and mention "Christmas gift certificate promo" and you will receive an extra $10 bonus for every $100 of your gift certificate purchase.