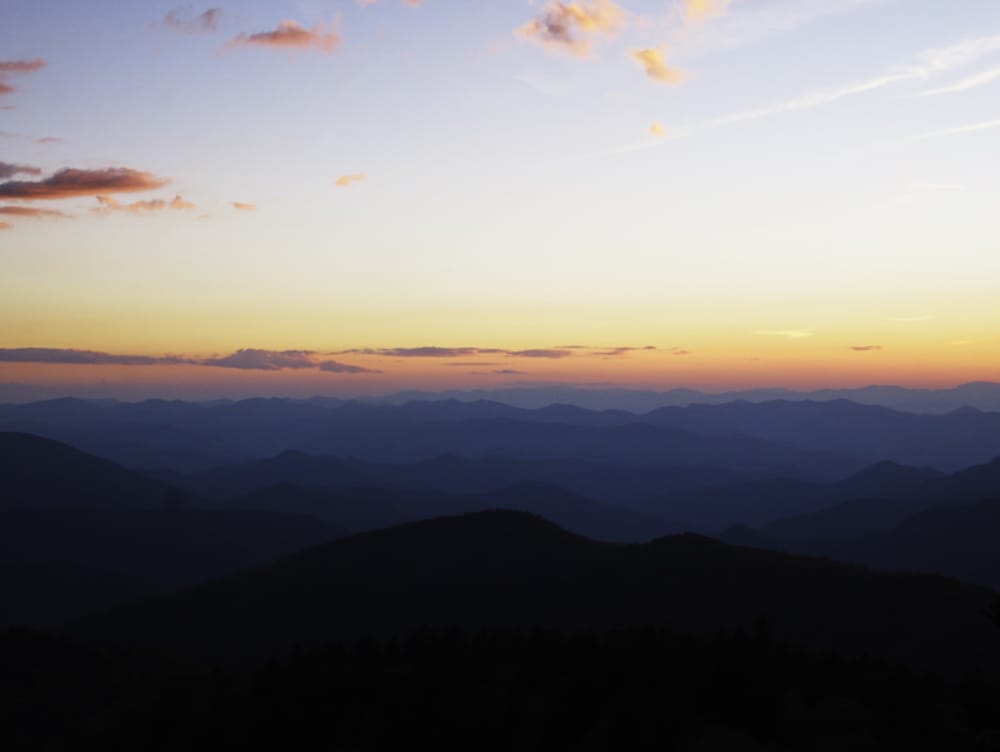 One of the most common questions we have had is where to visit on the Blue Ridge Parkway and how to get there. We will share some of the highlights closest to The Lion and the Rose. You can choose to take just a short drive to a few overlooks or you can use maps and other tools to spend a day or more exploring the views from numerous overlooks.
The fastest and easiest route to the Parkway from The Lion and the Rose is traveling North via 74A:
Turn right on Montford Avenue and continue until it dead ends into Haywood St. (at a stop light).
Turn left on Haywood St and turn left at the next traffic light onto the I-240 East entrance ramp.
I-240 East becomes 74A after exit 8. Once on 74A, follow the signs to the Parkway.
Attractions along the Northern route of the Parkway
Folk Art Center – art galleries, craft shop and artist demonstrations of Appalachian arts and crafts located at MM 382.
Haw Creek Overlook – overlooks Haw Creek and Tunnel Road (Mall and McCormick Field). Insider tip: On the 4th of July, you can watch the McCormick Field fireworks from here.
Tanbark Ridge Tunnel – Hike up a hill to the ruins of Rattlesnake Lodge built in the early 1900s. Parts of the old building and a spring still remain. And it has beautiful mountain views. Insider tip: There is a good picnic spot just before you enter the tunnel on the left.
Craggy Gardens – Close to MM 367. If you go up this road, picnic grounds are on the right. If you take the gravel road on the left, you will see several waterfalls. Four wheel drive is almost essential to handle the gravel road. You can meander down this road for quite a while and see waterfalls rolling down the mountainside.
At MM 365 there is a visitor center and lake overlook.
You can also hike to the top of Craggy Pinnacle. There are many other hikes in this spot. If you drive past this stop and continue through the tunnel, you will come to another parking lot. This stop also has a hike up to Craggy Pinnacle. This is a 15-20 minute hike and not very difficult. Many rhododendrons make a beautiful sight when blooming in June and July.
Mount Mitchell – The tallest point east of the Mississippi. It is located at MM 356. Mount Mitchell State Park is approximately a 45 minute drive from Asheville and is open 8 AM – 9 PM. Restaurant is open May through September. There is a parking lot near the summit and then a 5 minute hike to the top. It overlooks the Blue Ridge and Smoky Mountains. There is also another trail to the top that starts at the restaurant.
Helpful tip: We have found the Blue Ridge Parkway Travel Planner to be a great tool in planning your drive on the Parkway. They have a mile by mile guide and map. You can also download their free app for Android or iOS. There is an option to download offline maps which is very helpful since cell reception is limited while driving the Parkway.
Innkeepers thoughts: The Parkway is enjoyable any time of day or year but is especially breathtaking for watching a sunset or sunrise. Perfect for those on a romantic getaway or for those love to photograph nature and landscapes like we do.
Click here to download a PDF file of the Blue Ridge Parkway attractions and directions from The Lion and the Rose.