April 21, 2020
Our favorite Apple Pie recipe
Posted by: Karen Wilson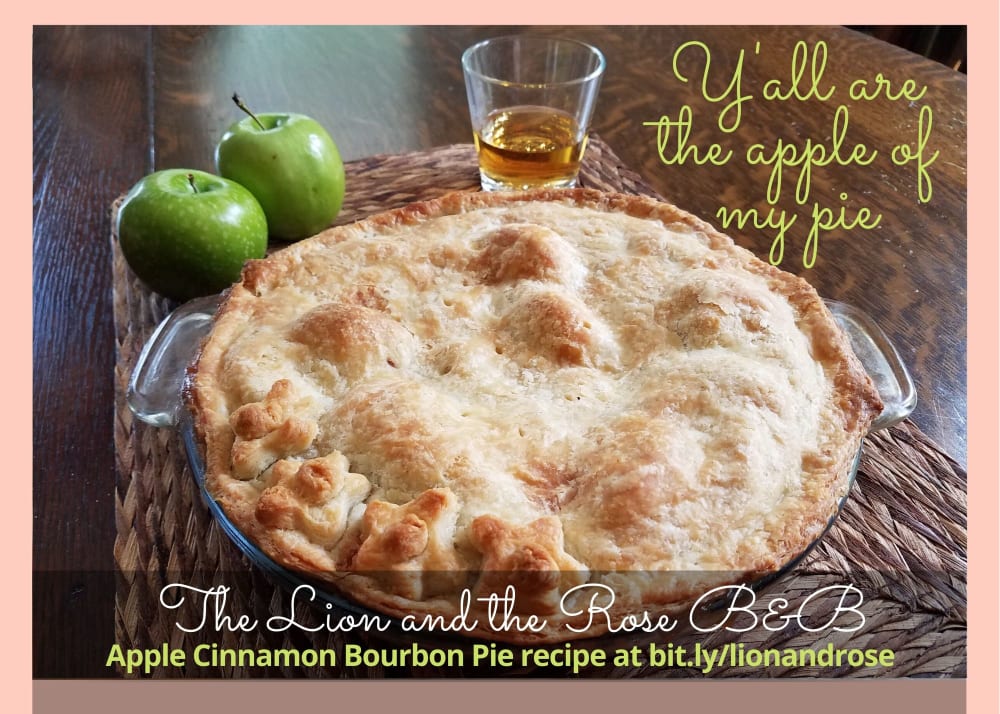 Ever since we visited the Bourbon trail in Kentucky, we have been experimenting with bourbon in various recipes. So in honor of National Apple Pie Day on May 13th, we would like to share one of our favorite pie recipes that has a touch of bourbon.
Apple Cinnamon Bourbon Pie
Pie crust:
2 1/2 cups all-purpose flour
1 cup butter, chilled (diced or grated works best)
1/2 teaspoon salt
1/2 cup ice water
In a large bowl, combine flour and salt. Cut in butter until mixture resembles coarse crumbs. Stir in ice water, a tablespoon at a time, until mixture forms a ball. Separate in 2 dough balls. Wrap each in plastic and refrigerate for about 1 hour.
Roll half the dough out to fit a 9 inch pie plate. Place crust in pie plate. Press the dough evenly into the bottom and sides of the pie plate. Reserve other half of dough for top crust.
Apple filling:
5 large Granny Smith apples peeled and sliced
1 c. sugar
1/4 c. flour
1/2 tsp. salt
3/4 c. water
1 tbsp. apple cider vinegar no substitutions
2 tbsp. butter
1 tsp. vanilla
1 tsp. cinnamon
1/3 c. Evan William Fire bourbon whiskey
scoop of vanilla ice cream
Arrange one of the pie crusts into the bottom of a deep dish pie pan. Fill the pie shell with the apples.
In a medium pot, whisk together sugar, flour, salt, water, and apple cider vinegar. Cook over medium heat, stirring constantly, until thick.
Remove from heat, and add butter, vanilla, cinnamon, and bourbon whiskey. Pour mixture evenly over the apples. Arrange the top crust, and pinch edges to seal. Prick with a fork.
Bake at 400 degrees for 45-50 minutes, or until pie is golden brown, and the apples feel soft when a toothpick is inserted near the center. Remove to a wire rack to cool.
Serve with a scoop of vanilla ice cream and a sprinkle of cinnamon. Enjoy!